Post by gtopat on Nov 14, 2016 15:10:04 GMT -5
Part 10: Junkyarding
A while back I'd learned of a junkyard up in Maine that was supposed to have a bunch of old C-bodies. It always sort of bothered me that my car had the "soft" suspension for a small-block, civilian car, so under the pretenses of "we need to upgrade!" we loaded up the truck for New England. Let's make this plainly clear now: Of all our failings at our first race, exactly none were suspension related. Therefore, our first effort will be to change the suspension.
I thought the yard Spanks had found in Ohio was the coolest one I'd been to, but this place trumped it by a factor of 10. Most of my pictures were 74-77 Cs, but I couldn't take a step without tripping over something interesting. B & E-body Mopars, F-bodys, every variety of wagon. Twenty acres!
The first "Formal" I found was a civilian Royal. 360 car. Really rotted underneath and filled to the beltline with junk. Correct taillight lenses, but not much else.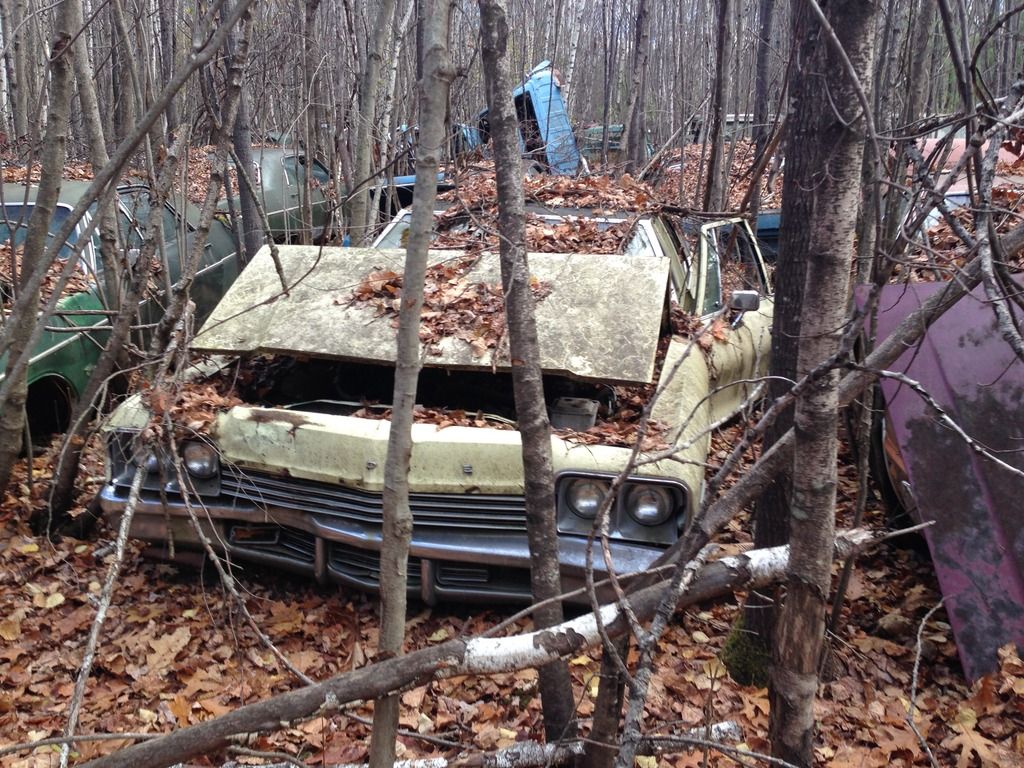 Unfortunately the only '74 I came across was a mess. Civilian car. 360 if I remember correctly. Vent windows. Mangled bumper. Bezels cracked.
The fenders were rotted behind the wheels and dented by the headlights. The header was dented in the same area the bumper. Maybe a good panel beater could save them.
Cream interior had been exposed to the elements. 12o speedometer was gone.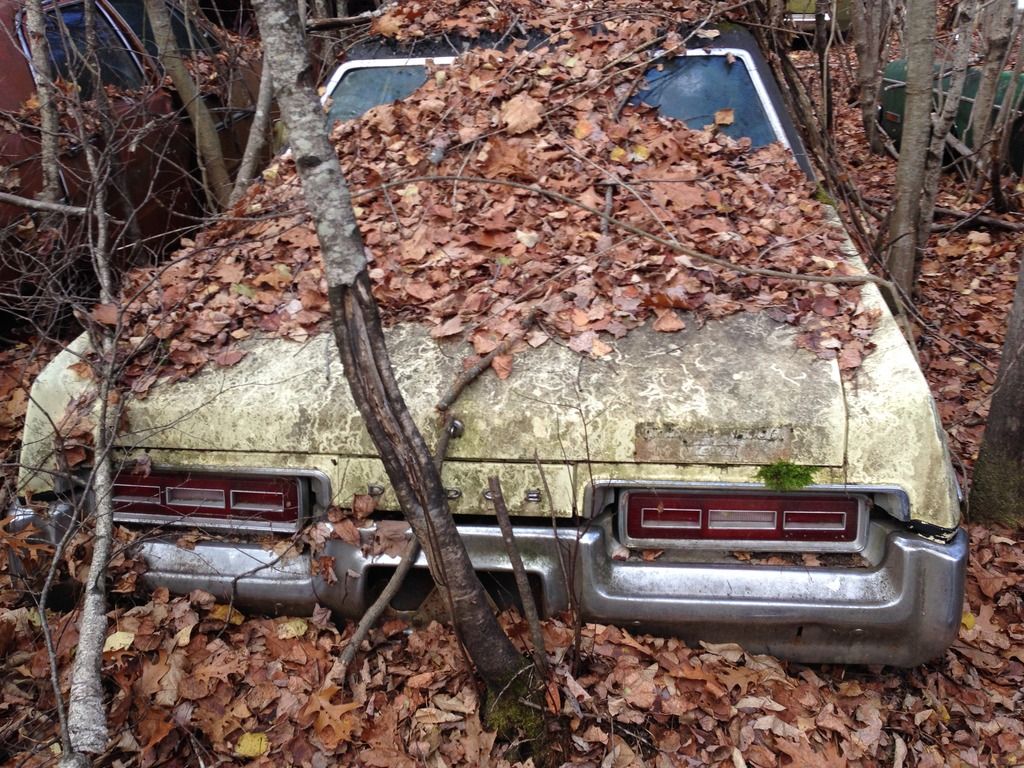 Taillights/trims/bumper and fuel door all still looked good.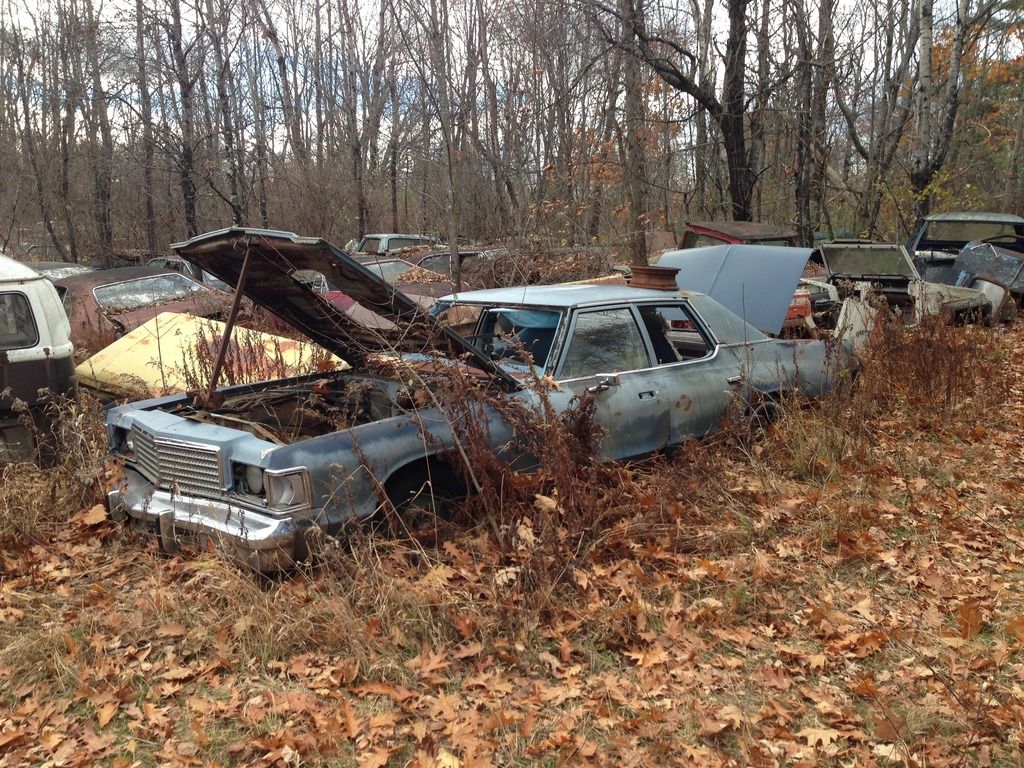 Next up was a '77 Royal K-code car! Still had a 440 short block/727/9.25 but otherwise thoroughly picked over. Short belt moldings still there. No floors left what-so-ever.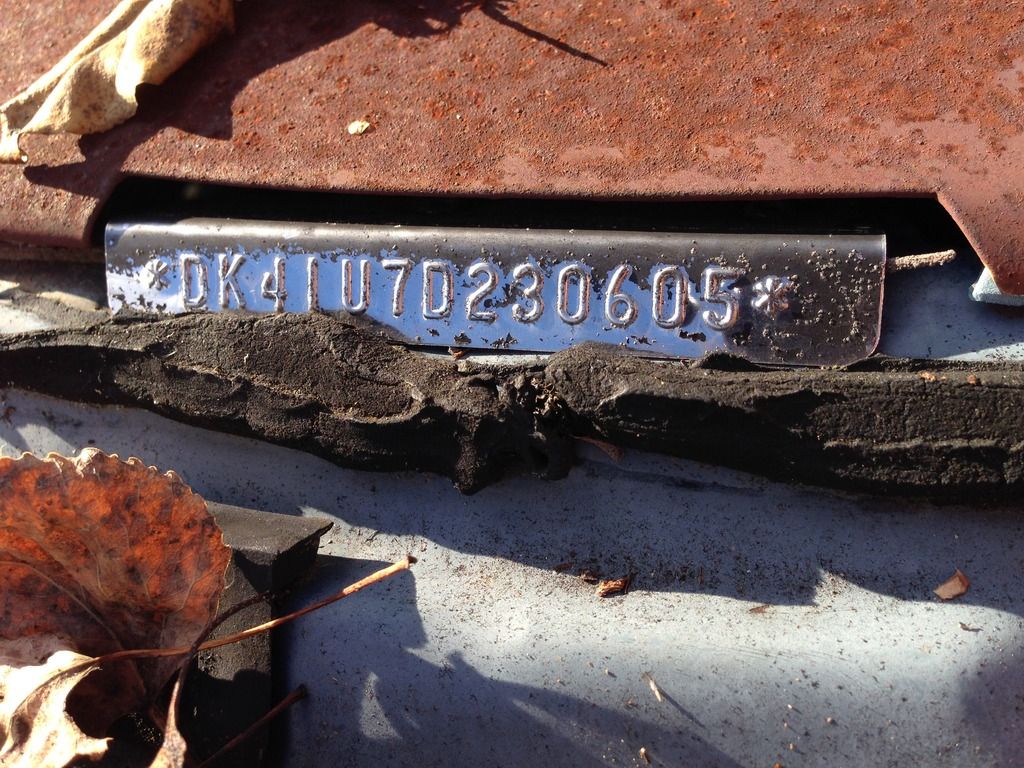 I'm guessing Maine State Police based on the color. Trim tag was long gone.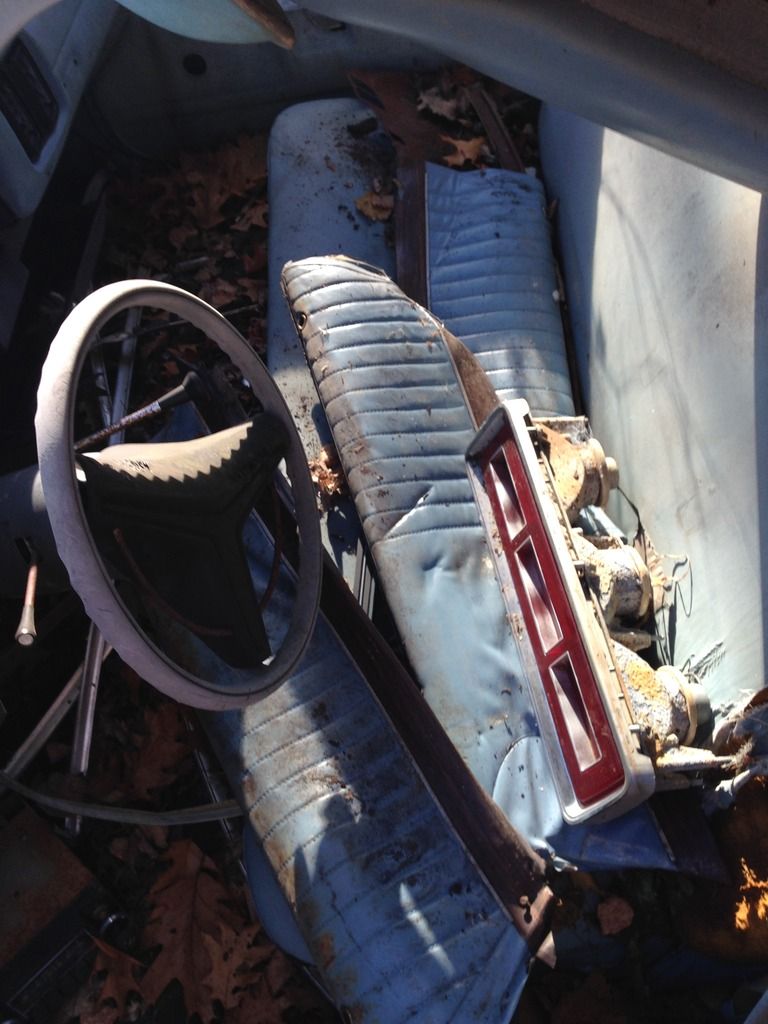 I accounted for all 4 '77 police door cards, but they were in very poor condition. Found a taillight under some junk in the rear area. Full vinyl front and rear seats still there too, though the driver seat back was torn up. I ended up pulling the front sway bar off this car. I was going to take the torsion bars too, but someone had already made off with one. So I moved on to our big score of the weekend.
The VIN says "M" and the trim tag was gone, but the options speak for themselves.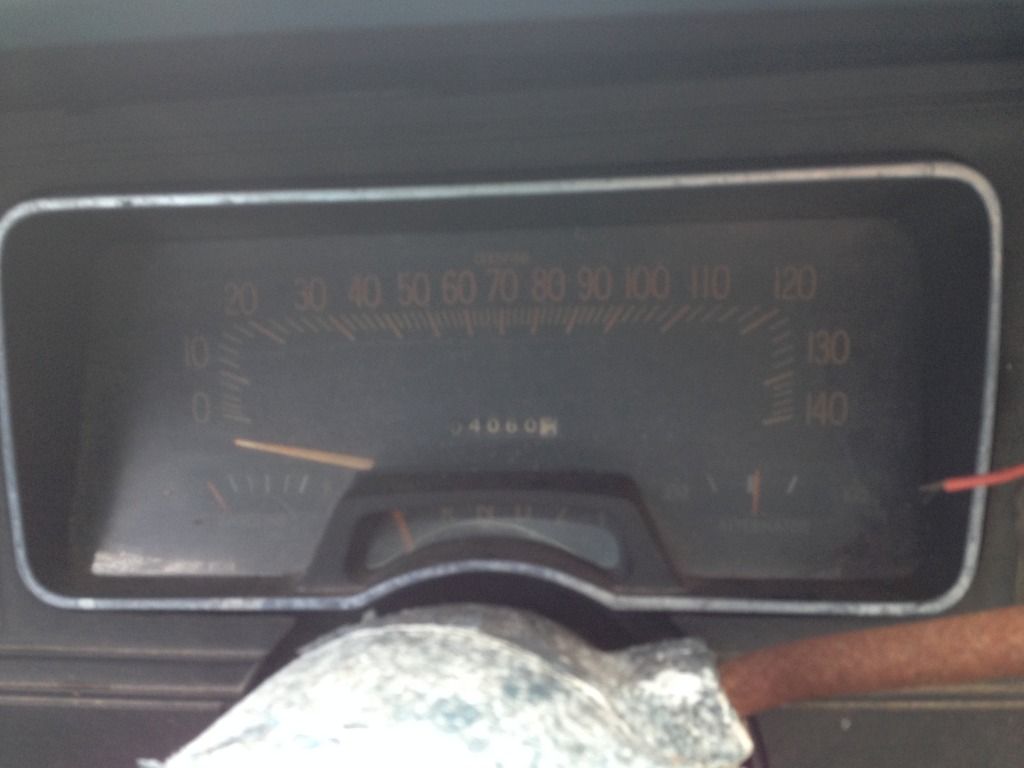 Certified 140 speedo.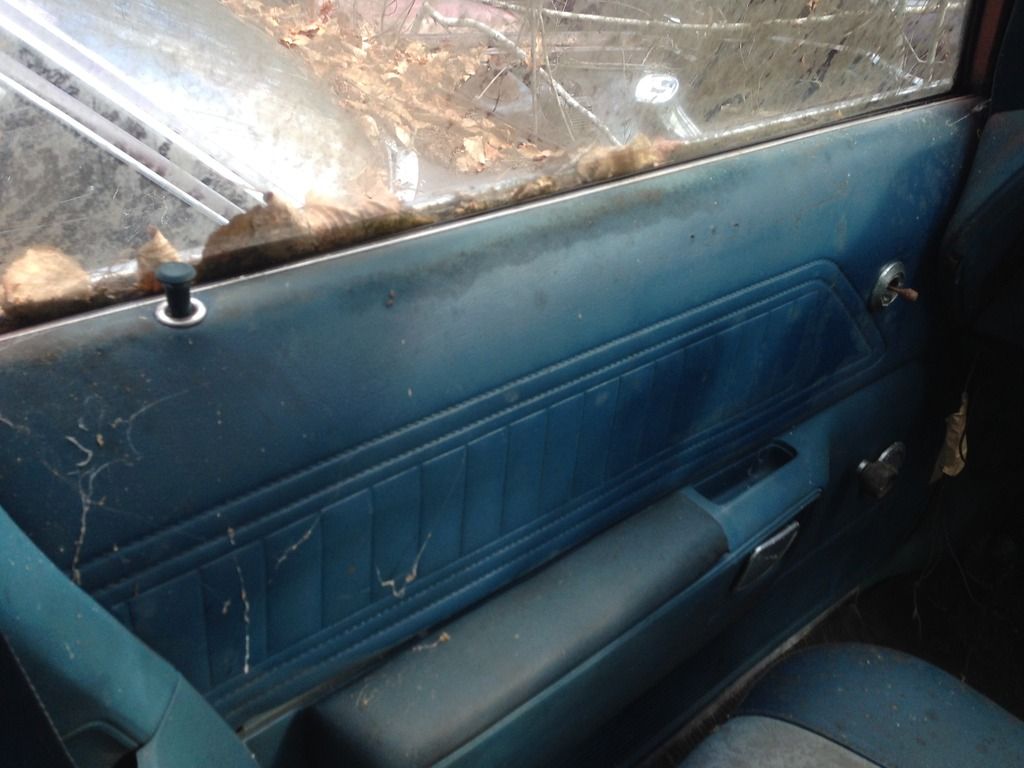 74/75 police door cards in not bad shape.
Ticket light.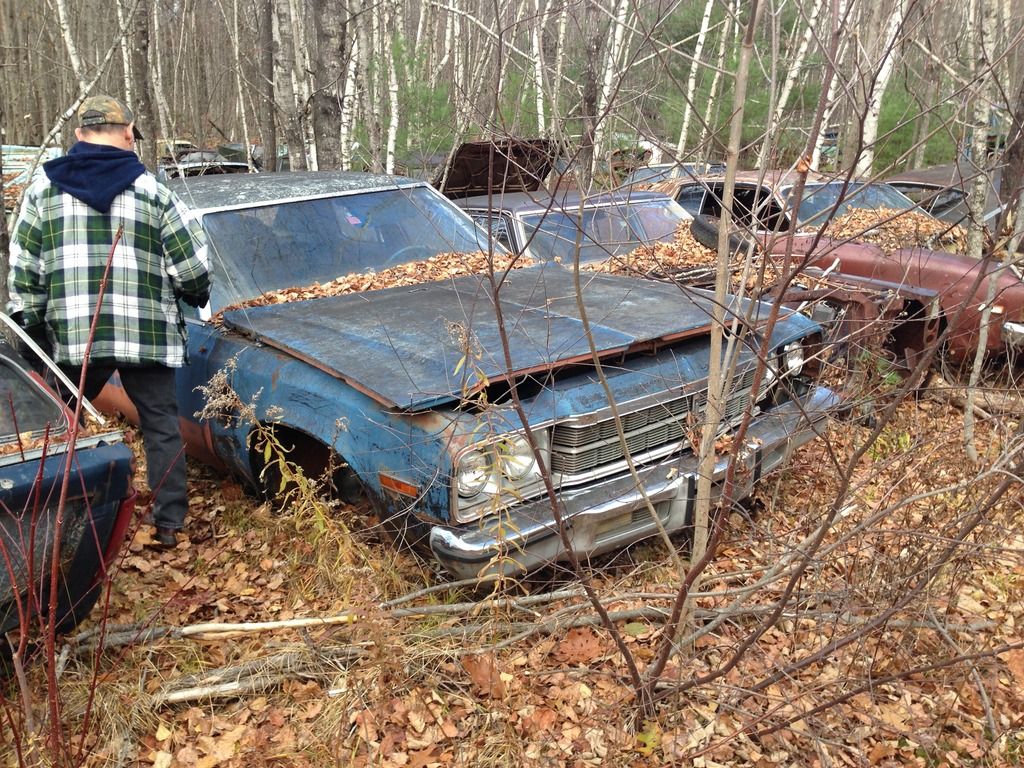 All in a '75 Gran Fury! The core support said a 440 once lived in the empty engine bay. Despite the missing tag, I'm confident it was an A38 police package car. Rubber floor. Vinyl seats with inlaid cloth. The interior was still in nice shape with 3 of the 4 windows rolled up since its last registration in 1981. All of the doors were stuck closed except the rear passenger, which was blocked shut by a tree. I had to climb through a half opened window to take those pictures.
I ended up taking the HD torsion bars and leaf springs, the police-style non-isolated rear-lower shock mounts, and a bumper shock and strut rod to replace the bent ones on my car. I ran out of time to gobble up the interior bits, mostly due to the doors being stuck closed.
We ended up spending a solid day-and-a-half in the place and probably didn't see half of it, spending our time where the Chryslers seemed most concentrated. On the way home we stopped and picked up a 3.21 SureGrip 9.25 from a dismantler, topping off the trip. Much wrenching ahead!