Post by AZBlues on Aug 15, 2011 16:10:31 GMT -5
If you're a model or diecast collector, and a Bluesmobile fan, there are several choices out there for a car to zoom across your desk. There might be a few toy versions with questionable or cartoonish proportions, but this will cover the realistic versions that have been available for over 30 years now.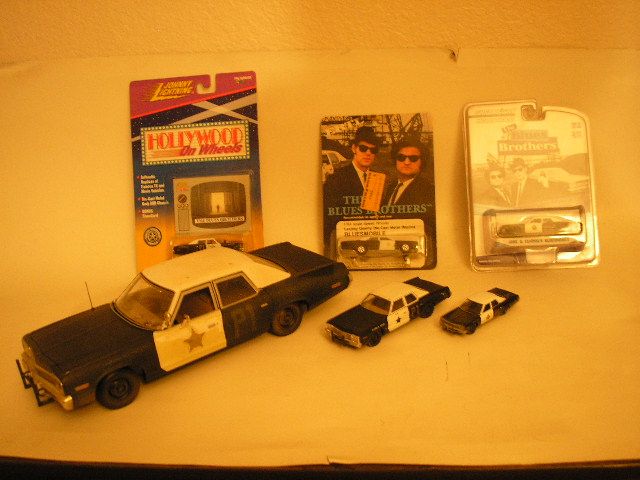 The first Bluesmobile diecast came out when the movie did, in 1980. It's made by Ertl in 1:64 scale, and was one of the first diecast products From the Dyersville, Iowa company that wasn't a farm implement.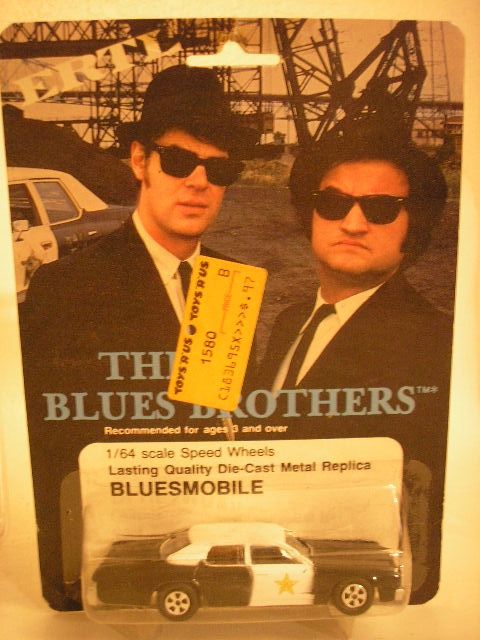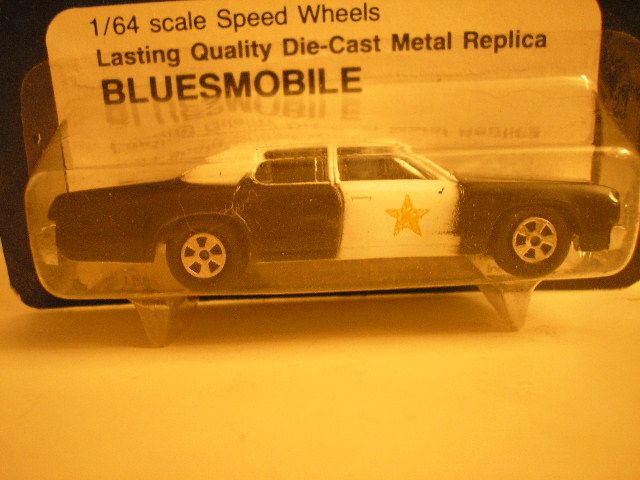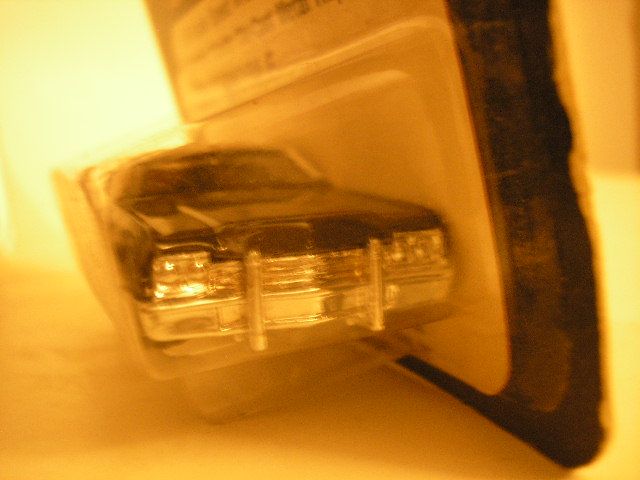 Definitely a Monaco, and the detailing wasn't bad by 1980 standards when diecasts were considered toys and not collectibles. It's hard to find today.
The second Bluesmobile introduced was the Johnny Lightning in 1998, also in 1:64 scale but a little bit smaller than the Ertl.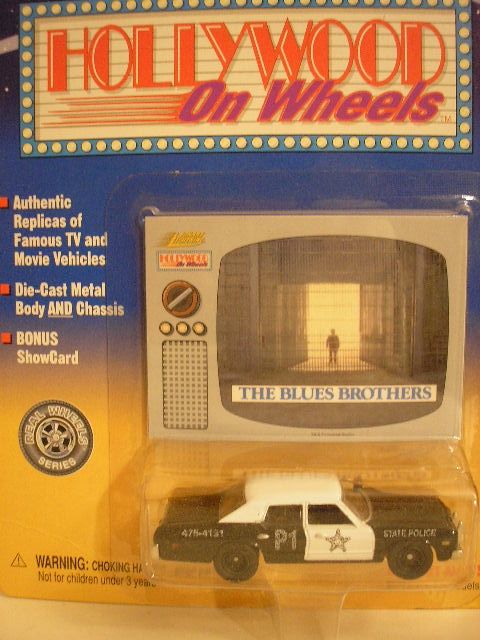 It's nicely done, but a little square looking and incorrectly has "Highway Patrol" printed on the trunk and "State Police" on the front fenders.
The third Bluesmobile to come along in 2002 was the Corgi model in 1:43 scale, and came in a nice display box with scale figures of Jake and Elwood.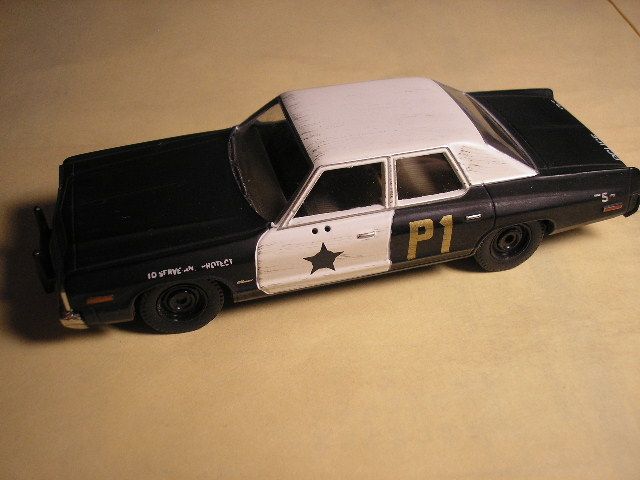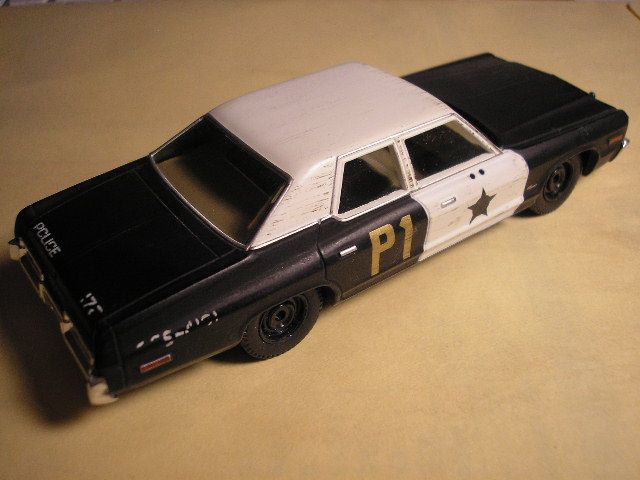 It has two mirror holes in each door, and the mirros were elsewhere in the box. Nicely scaled, it's weathered with flat paint and mud spatters, no operating features. The tires are very narrow on this car: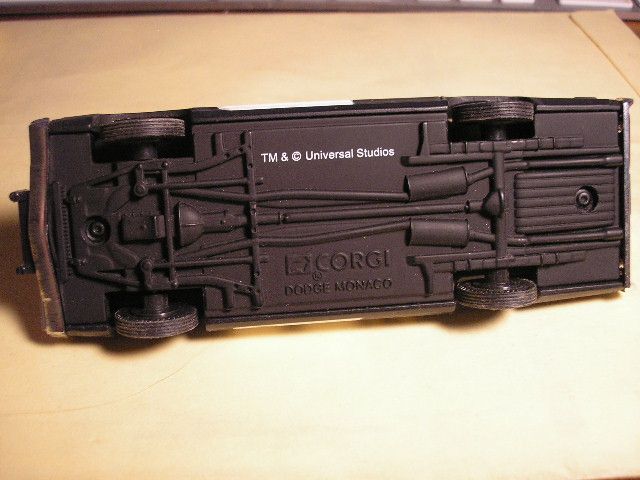 BluMo #4 is the best known, the big 1:18 scale car from 2005, and Ertl's second model of the iconic Monaco.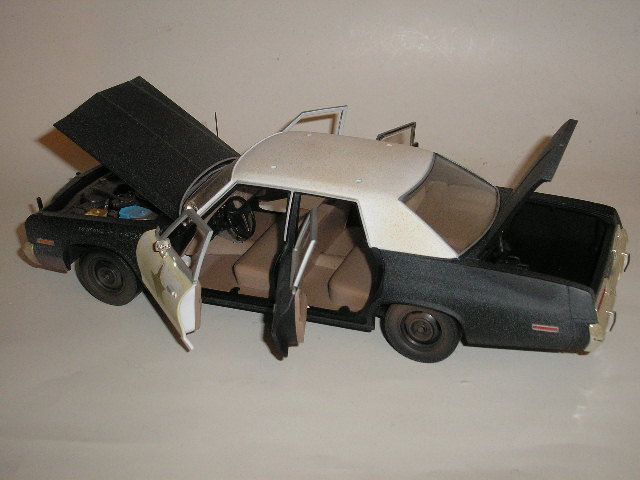 Everything opens on this car, including the rear doors; unusual for a 4dr diecast even in this scale. The 8 track player is not in the A/C vents, but rather on the trans tunnel with the tapes. It's weathered, flat, and dirty almost everywhere. The trash on the dash is printed on.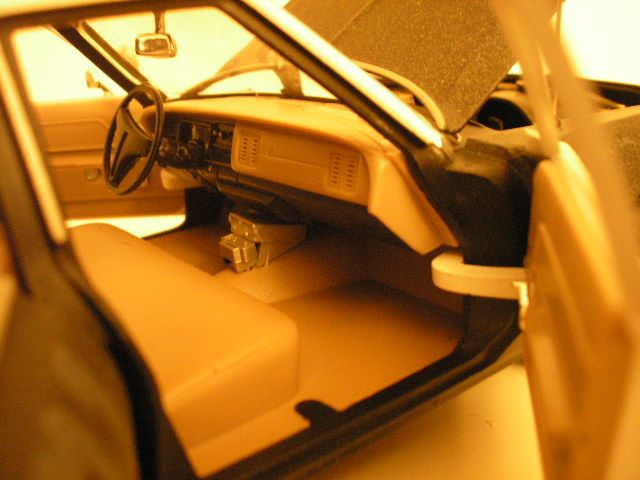 Elwoods' bag is in the trunk:
The chassis is very nice, weathered and accurate looking with details galore, steerable wheels, and a realistic 9-1/4" rear end.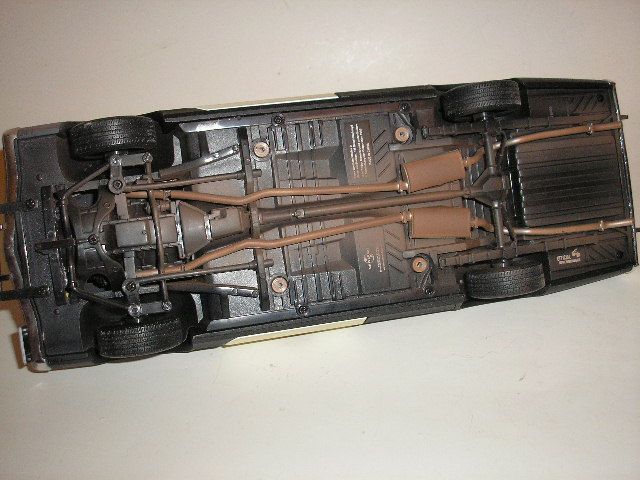 The engine is a disappointment; it looks like a big block Chevy, has a rear distributor, and an incorrect single snorkel air cleaner. No A/C compressor, but they did give us a cruise control vacuum servo.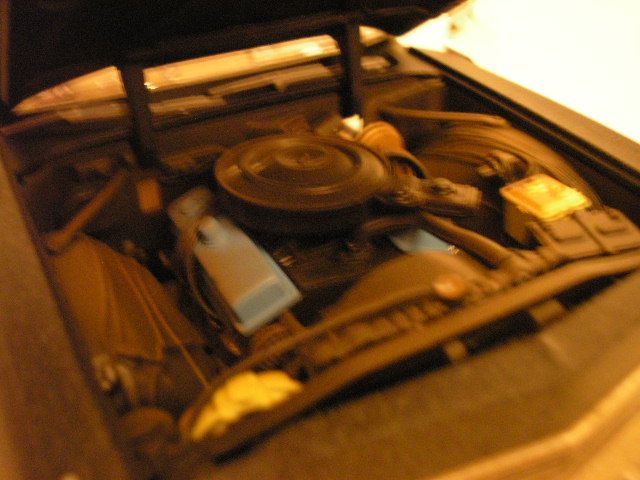 It has four holes in the roof for the big loudspeaker, which also comes with the car. It's big, it's heavy, and it can still be found for about twice list price.
The most recent Bluesmobile was just introduced this year, 2011. An excellent little 1:64 scale car by a relatively new company, Greenlight. They are known for their highly accurate police vehicles and muscle cars, and almost all Greenlight diecasts are instant collectibles - since they limit production and nothing has ever been reissued. One unique feature of this car is that it has no rear window, because the Good ol' Boys already shot it out. A nice touch.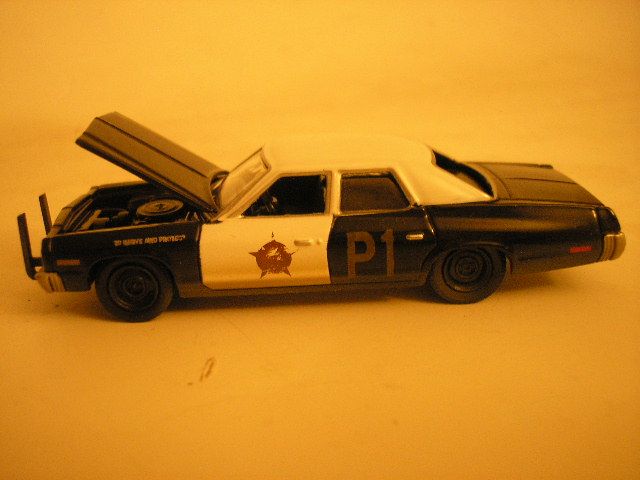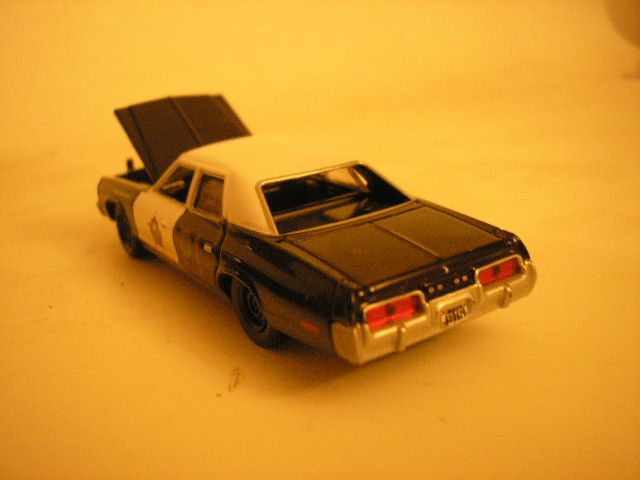 The tires are wide:
The hood opens to reveal a simple but accurate engine, with a correct dual snorkel (wide angle) air cleaner and even a little representation of the A/C compressor.
It has weathered paint and road dirt painted on the lower body, and clear red taillight lenses, as well as correct plates front and rear and the missing D on the gas door.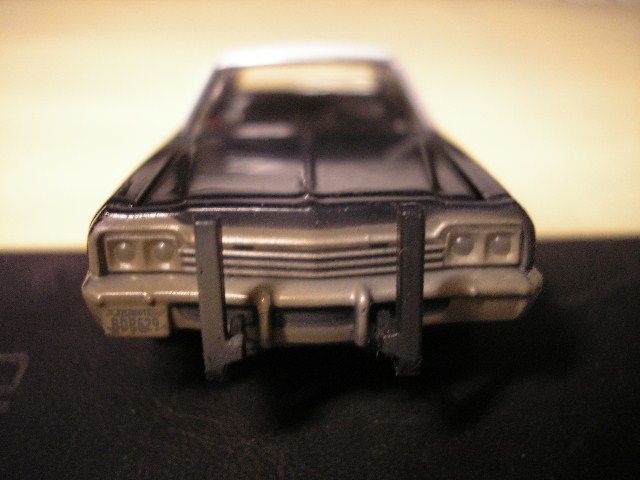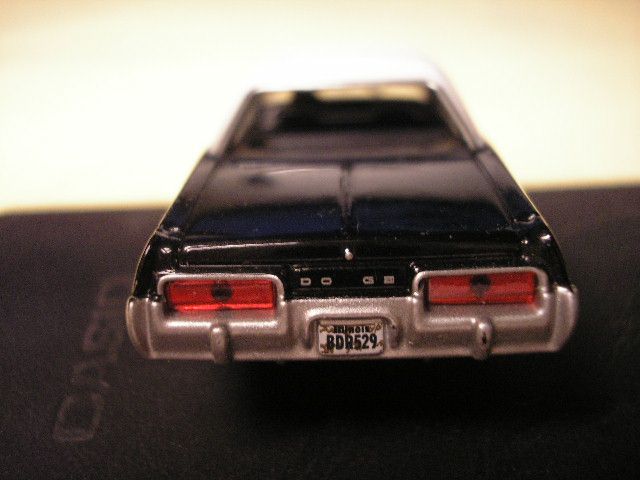 All of the Bluesmobile models have increased in price over the years, the Greenlight can be found on eBay for list price ($6) plus shipping. Get yours now, because in a few years, it will be $20 or $30.
All three 1:64 scale cars have an incorrect black interior, while the 1:43 and 1:18 cars have the correct tan color.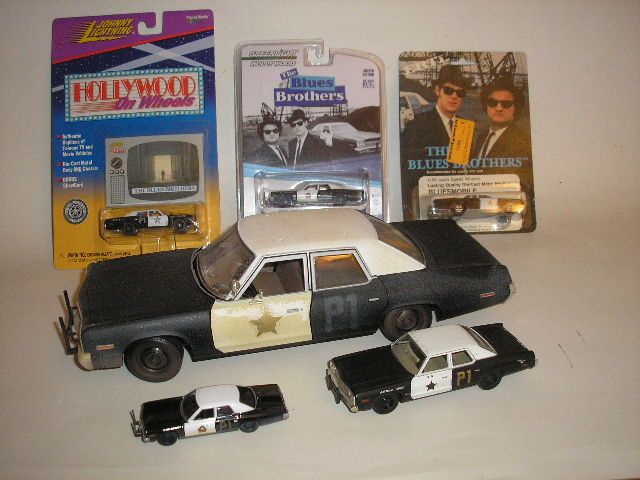 The newest with the oldest: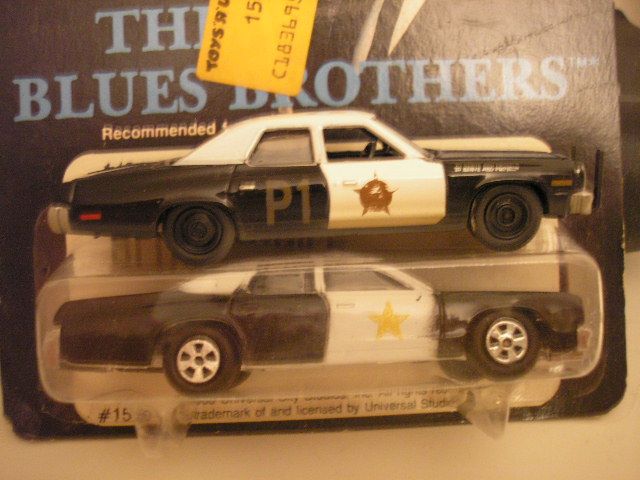 -AZB