Post by 77granfury on Jul 30, 2022 18:07:04 GMT -5
Update to
12. General Maintenance
We haven't been online in a week, but we're not lazy. Secretly we're preparing our Bluesmobile for the longest trip we've ever done with it, and pressure is high. Under no circumstances can I risk breaking down on the way TO Joliet, because if my little man misses the Blues Brothers Convention and his chance to see Dan Aykroyd, I'm not sure how I could ever make this up for him. He's talking about it - A LOT - since we found out about a month ago.
On the other hand, money and free time aren't unlimited, so my preventative maintenance has to be reasonable. I'll bring tools, some spare parts and odds and ends that I assume could go wrong, but after all, you never know. So in the last weeks we had to prioritize and focus on what's REALLY important:
1. Movie Props.


No road trip could ever be successful without a leather briefcase, leg shackles, a harmonica, a Yankee screwdriver and a can of Marine Epoxy, the really strong stuff. While we ordered the shackles
on ebay to avoid being caught by the wife browsing through the local sex-shop, we already had a harmonica, the Marine Epoxy will be an easy task with the label being available online, yankee screwdrivers
are basically owned by almost every retired neighbor and we've even seen them on amazon, of course the Chinese version with fire-red plastic handle - and we can't support that.
The leather briefcase was a little harder to find. On ebay, on kijiji (because in Canada, craigslist isn't popular) and even in local thrift shops we found countless similar versions, but our criteria was pretty simple:
1. It needed to be black
2. The handle has to be mounted on top, no straps along each side
3. It can't have a flap, we needed the belt with brass closure as close as possible to the original one.
4. It must be affordable.
And none were exactly what we were looking for. Either they were correct, but too expensive - ($1500 for a 70s briefcase because of the brand-name we didn`t care about? Nope.) - or the design
was wrong, or they weren't black, or they were falling apart, hell, there was something wrong with every single one. Then I just had enough, and because we didn't care THAT much about a 100%
correct briefcase for a crazy amount of money, I just grabbed the brown one below at the local vintage shop for $20. It was close enough. The other bags were $10, but the seller didn't budge because
of the "Bermuda Customs" stickers on it. We ordered Fiebing's leather dye on amazon and hope that'll do the trick.
Updates will follow!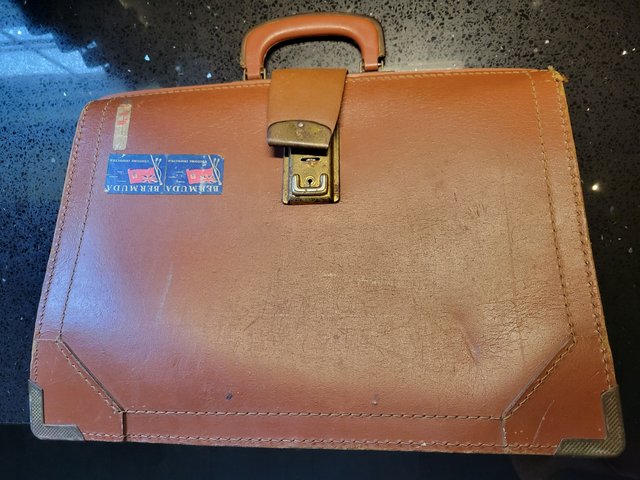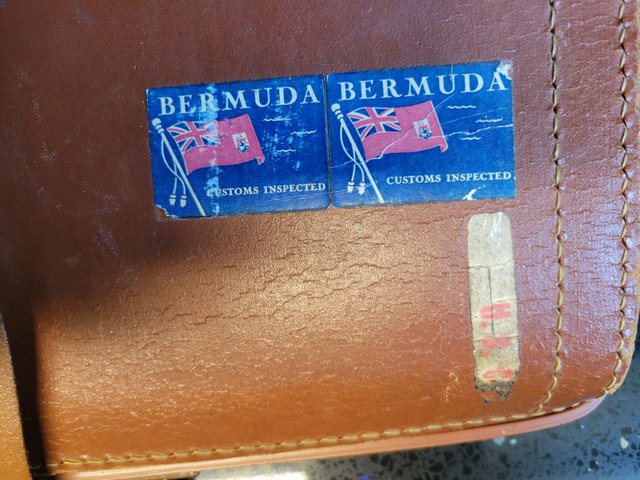 2. The ticket light is finally in!
I finally found a moment to mount to install the ticket light/Roadrunner dome light! It took me a while because I didn't want to take the chance to pierce the roof, so I asked a friend of mine if he could
send me some pictures of the Monaco roof without headliner. Well, there's a lot less meat up there than I thought - but I made another observation!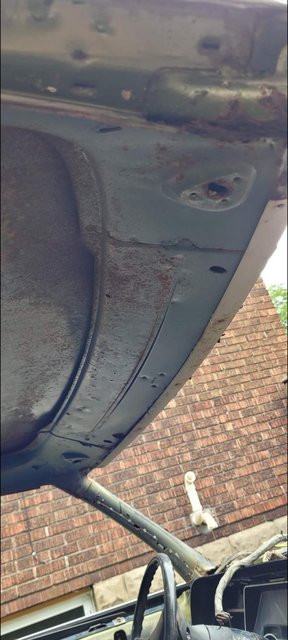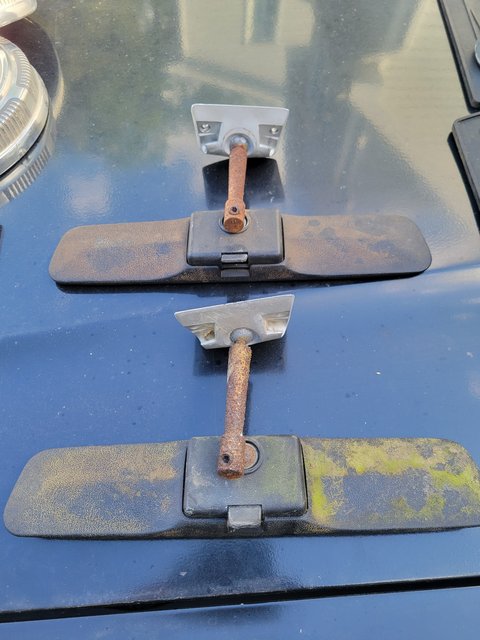 This was a windshield mounted mirror car.
Do you see the
THREE
pre-drilled holes for the mirror? Most of our cars had the plastic visor-holder screwed in there, while the mirror was glued to the windshield.
After finding out the mounting holes were the same for the 69-73 full size roof-mounted Chrysler mirror, THAT makes me believe our cars were meant for the roof mounted
mirror - as everyone can easily screw in the 3 required screws and mount a mirror to the ceiling/roof.
Now this car is a 74. Can anyone confirm that 75-77 cars have the same pre-drilled holes? Or only 2?
But back to the ticket light: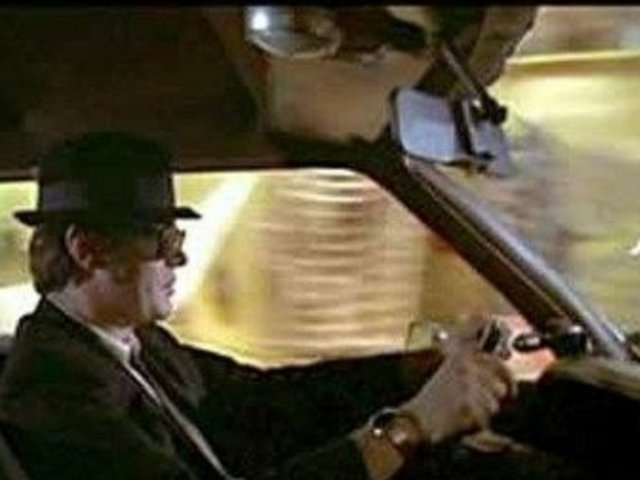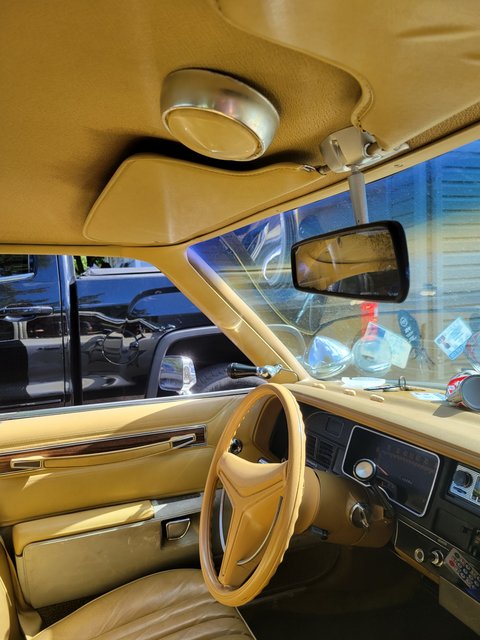 Now, it's not flush, I'd have to cut-out the headliner as it's a little recessed where the bulb is mounted. And, please don't be mislead, where I mounted the light, there's no metal support bracket.
This might be what police cars had as an optional "roof bracing"? Be careful. What I would recommend, since this light is incredibly light, slide a piece of thin plywood from your dome light opening
forward towards the spot you want your ticket light to be. Once you have it screwed into the plywood, it'll never come down. It won't support your headliner either, but it'll work just fine.
On a side note - we have something like a "grease stain" above the driver's visor, it's not wet. I have no idea how to ever get rid of it. Maybe the previous owner used the driver's visor to hold
his freshly sliced cold cuts and hams within reach? Fried chicken maybe?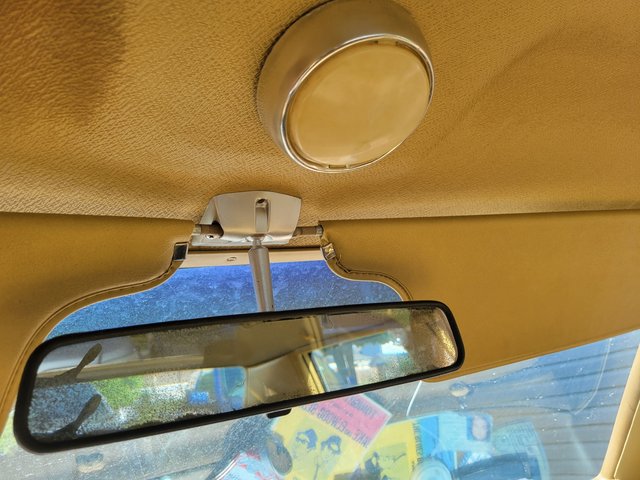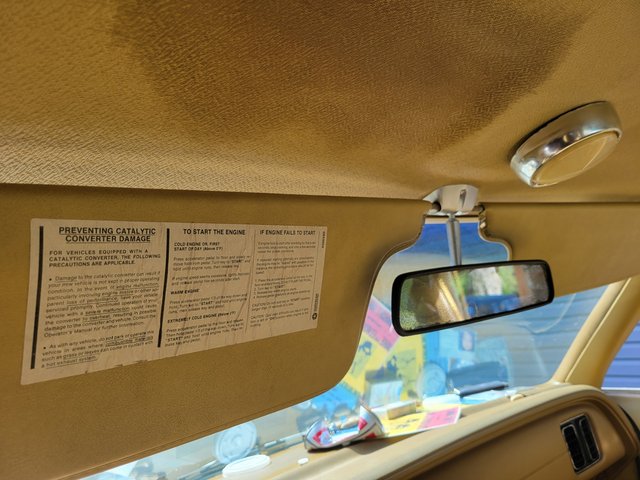 3. Paint accents...


Our "white" is a rather creamy colour but it looks "vintage", "aged" and a little dirty. Looking at the 1/18 scale Bluesmobile, we suddenly had an idea: if we paint some REAL white onto the doors, then our original paint
looks a lot dirtier, almost filth-yellow-ish.
To do exactly this and bring out the desired dirt a little more (because it rains here so often this year, that it's really hard to keep a dirty car dirty), Lil' Elwood and me snuck out to our preferred paint-booth:
the upper levels of the local train station parking garage. After 8pm it's mostly empty, it's free, it's lit up, and it's protected from some of the elements, besides strong winds, but that's ok. It blows the dust and paint
overspray right out and gives us better air to breathe. I admit, the idea was great on paper, but we'll have to work on the results a little more: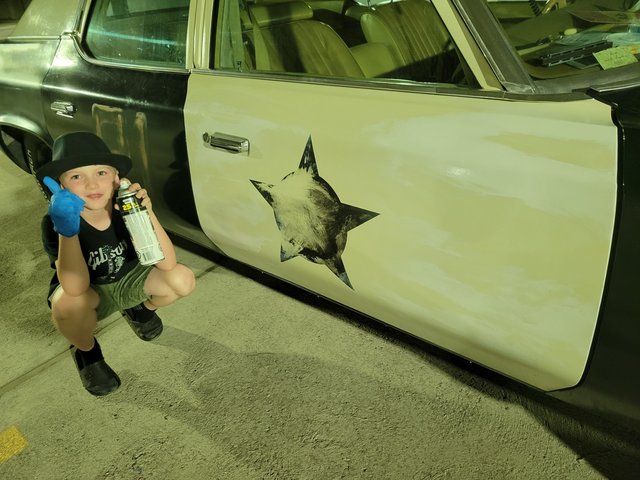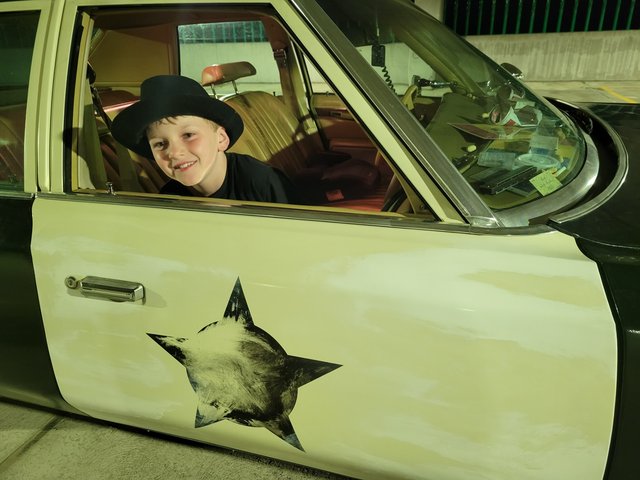 The yellow-ish light in our paint-booth-garage doesn't help, but the idea was also to fake some Monaco bodylines by brightening up the lower Gran Fury bodyline - so it looks more contoured.
We need some wet sanding and tweaks here and there until it feels right.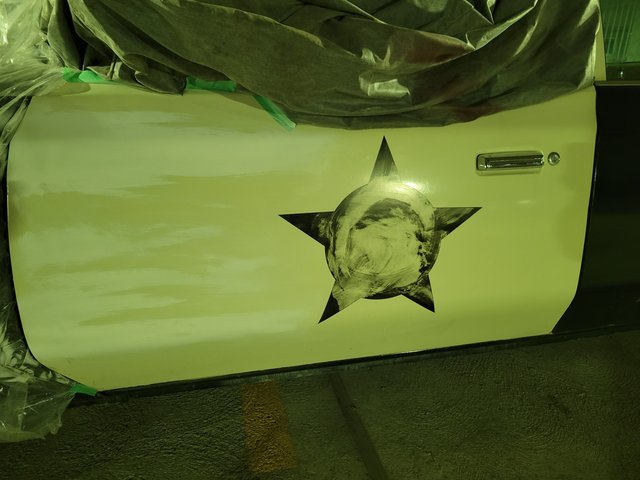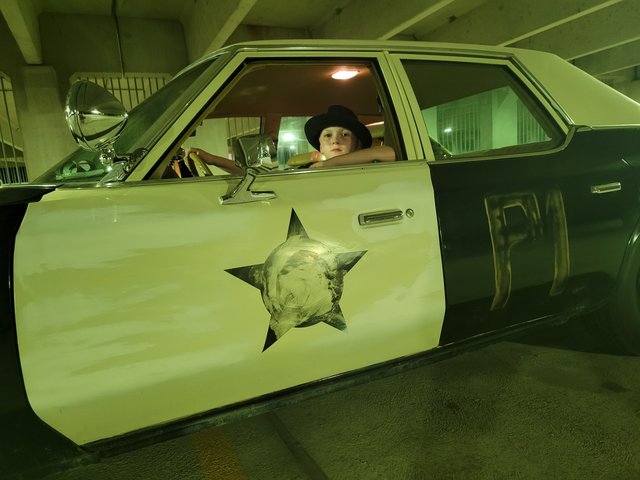 Next step will be Lil' Elwood's certified rust aging treatment, some around the door handles and locks, some on the bottom of the fenders and doors. He promised to come up with a new recipe,
this time with EVEN MORE dirt. Hey, in the worst case, it'll crumble off and he'll have to re-freshen it once in a while.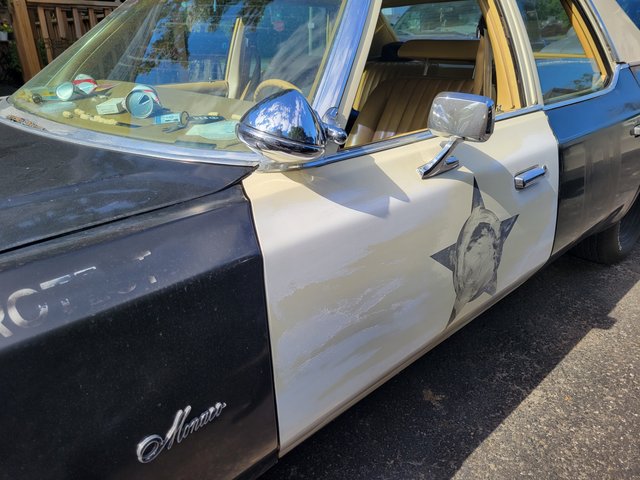 4. Spare Parts Run!

As I'm writing this, my wife is already breathing down my neck. Heading out to the US to pickup some badly needed Summit and Rockauto parts, including a rad (FINALLY!),
waterpump (just in case), all possible hoses, filters and belts (just in case), a 1-wire alternator (just in case) and a lot more odds and ends - oh ya - the shackles, too.
After this weekend I have 2 weeks of work and a few days left to do my very best - AND get a push bar up front. Our tail conversion will have to wait until after our trip, but more about that another day.
We're looking forward to August 19th, to meet some of you and to be part of something absolutely awesome! Until then, we'll try to get work done and maybe a few posts...