Post by gtopat on Aug 19, 2018 20:51:47 GMT -5
As 58hemifury said best... here it is, another fine mess I've gotten myself into. Extremely rusty former NYSP cruiser, last registered in 1991. I had just a bit of time today between rain storms, so pardon my pictures.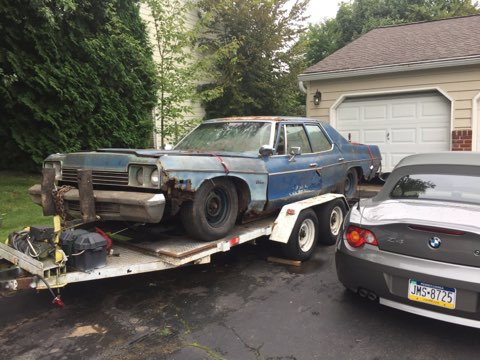 There is not one salvageable piece of sheet metal on the whole car, aside from the header panel. The floors are gone so the subframe pulled out and the front of the unibody is resting on the trailer. Had to hammer/pry the driver door open which ripped the rusty b-pillar from the roof. Rubber floors, condition currently unknown. Tan (gold) cloth seats need recovering, but salvageable. Ticket light, looked OK, maybe kind of pitted. Steering wheel with the 3-spokes and horn ring, split at the top. Driver door card was shot but the other 3 looked OK. Dash pad is shot, previous owner cut a big hole in it for god-knows-what. The fenders of my trailer are blocking the doors at the moment, so pictures/prices of the interior coming in the next few days. Consider the 14o "spoken for."

"Doghouse" - Fenders are shot, but the P/S could be "clipped" to a Royal fender. Header panel/grille look good. D/S bezel good, P/S cracked. See pictures. Push bumpers are from a Westchester, NY cruiser and bolted to the bottom of the bumper. Both turn signal lenses are present.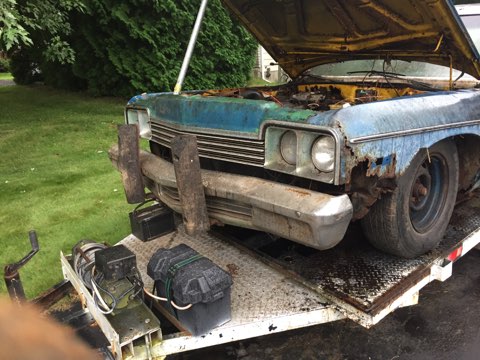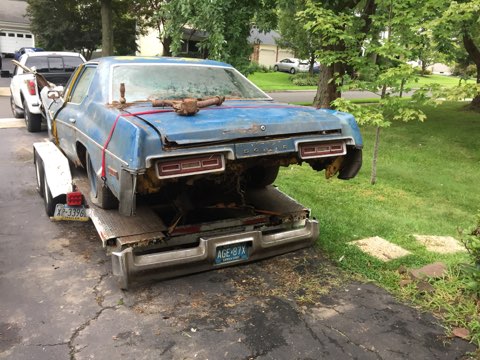 The "heavy duty" suspension is available as I already have it in my car. Torsion bars, rear leaf springs, lower "non-isolated" rear shock mounts & front sway bar. $250 for it all.

It should have the tighter/quicker "police" steering box, I'd like to keep it, but I'll listen to offers.

I bought the car for the steel-crank 440 HP, but I'd be willing to talk about it. (hilariously stamped "440 PH" on the ID pad, close enough!) Non-AC car, HP exhaust manifolds. No idea yet if its stuck.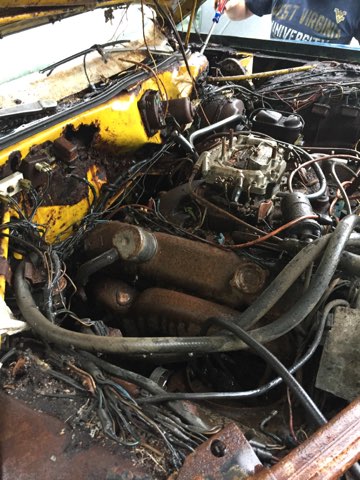 If there's anything else you're interested in, drop me a line ASAP. The whole car has to go, I need my trailer to go racing! I'm willing to ship anything/everything at buyers expense, within reason. Any questions,requests for things I missed, better pictures, let me know here, via PM or email (interceptor281 at g mail) I intend to start tearing it down this Friday (8/24) scrapping most of it, keeping the bits you all want/need. Lets talk.