Post by Steam McQueen on Oct 5, 2017 8:35:37 GMT -5
- So what's going on with this one? Is this Ant's stolen Blumo??
A guy named Martin Fillery was growing a lot of weed in an old nuclear bunker in the UK, he was busted earlier this year and now all of his movie memorabilia has been seized and is being auctioned. One bit I read said he had a business renting props and stuff to movie productions. Apparently he also owned a 1974 Monaco Blumo and it too will be auctioned. No pics yet ...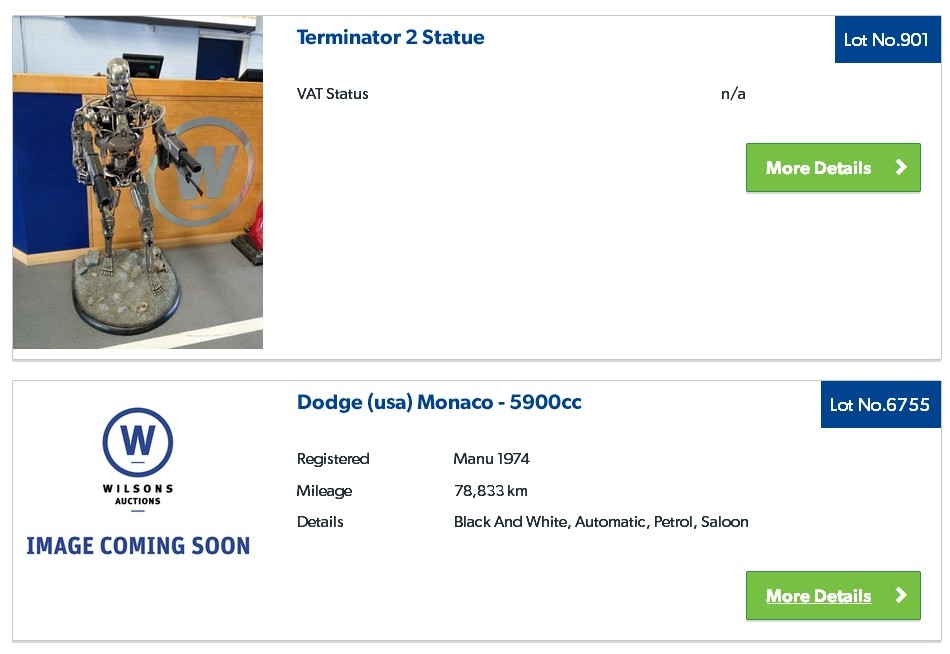 Being handled by Wilsons Auctions in Belfast the auction date is Thursday, October 26, 2017 ...
Taking place in our Belfast branch from 5.30pm, the auction will be available to a worldwide audience through the auction company's online bidding facility LiveBid. And with no reserve, all items will be 'sold as seen' to the highest bidder. The auction is a once in a lifetime opportunity to purchase from an entire collection of repossessed movie and TV memorabilia which has been carefully curated over a number of decades. Items for sale include a Star Wars Stormtrooper and Ewok, a Doctor Who Cyberman, a Willy Wonka figure (depicting Gene Wilder's famous role), an E.T., a Mini-Me from the Austin Powers films and an evil Mogwai from the Gremlins films. A number of recognisable vehicles will feature in the auction including the actual screen-used BMW 6-series car from Back to the Future II (Giff's hovering car).

A selection of replica vehicles will also go under the hammer including a 1966's replica Batboat, based on a Glastron powerboat, this is the world's only four-seater jet boat. Other replica vehicles include the Blues Brothers' Bluesmobile and Del Boy's yellow three-wheeled Reliant Regal. Other items being auctioned off include a Monster Truck-style Hummer, a range of kit cars including a 25th Anniversary Lamborghini Countach Replica, a one of a kind McLaren F1 replica and a variety of retro arcade machines including original Back to the Future pinball machines and a substantial collection of vintage toys and games.
11 pages of items ...
www.wilsonsauctions.com/auctions/government-auctions/AuctionEvent?saleCode=173580&location=Belfast
This should be the direct link to the Blumo ...
www.wilsonsauctions.com/lots/government-auctions?id=650338&catId=2363&isIreland=false&tab=&lotPageNo=1
A story from the Salisbury Journal ...
www.salisburyjournal.co.uk/news/15564090.Movie_memorabilia_seized_from_drugs_bunker_to_go_on_auction/
In regards to The Blues Brothers and Bluesmobiles in the UK and replicas and movie cars and stuff like that, in the UK ... the name Martin seems very familiar in this instance. Do we 'know' Martin? Have we posted this Blumo here before? I'll be able to check once the photobucket pics come back. They're coming back ... right

?

lol fupb