Post by spanks79 on Mar 6, 2012 0:45:36 GMT -5
I finally have my own project! I have been dreaming of owning a 74 Monaco off and on for as long as I can remember. The Blues Brothers was the first movie I ever saw on VHS tape, I was 5 and it was 1981. Then back in 05 some co-workers and I found the Travis Bell documentary "Return to Chicago" and that sealed the deal, I had to have a Bluesmobile. Over the past few months I have gotten close to purchasing a couple different cars, even offering a lot more money for them than seemed reasonable and never struck a deal until now. Josephblues on BBC posted a one line response that he was selling his car to someone who posted a want add. I contacted him and struck a deal almost immediately. Joe is a great guy and I hope he checks in to see that I am truly enjoying the car.
My buddy and I always name our projects just like they always do on those Sunday morning hot rod shows. For this project we chose "$hit Box Dodge" because, well it is..... We use S.B.D. When we need to keep it PG.
We got really lucky picking the car up. It was a 400 mile trip each way to North Carolina and back to Cincinnati. Of course we chose to to travel during the craziest severe weather system I have ever seen, we threaded the needle between tornado's and hail all the way down I75. Once in NC we loaded the car on the dolly, dropped the driveshaft, and headed home.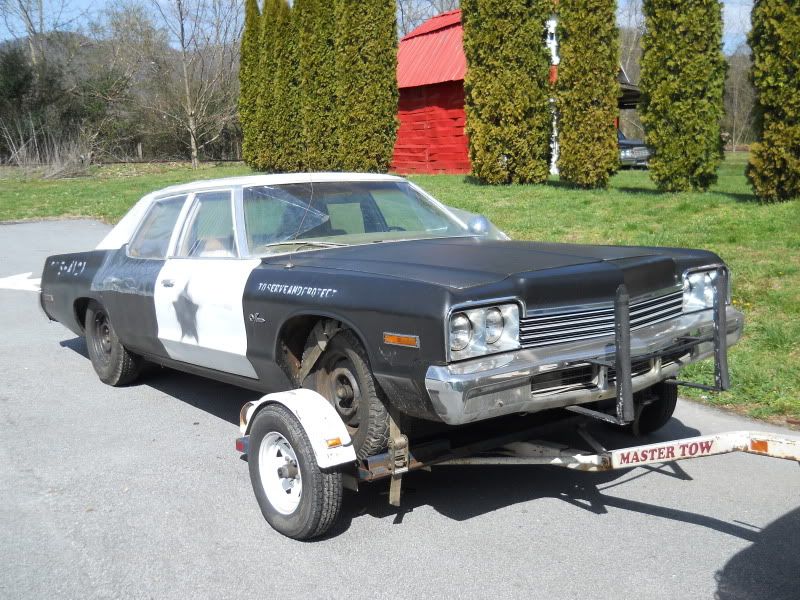 Luckily, the trip home was uneventfully and the weather beautiful.
Once we got it home, we got in the shop to check it out. It had a pretty significant fuel leak from a bad section of hose at the fuel pump, so we had to fix that before we could take it for a quick spin.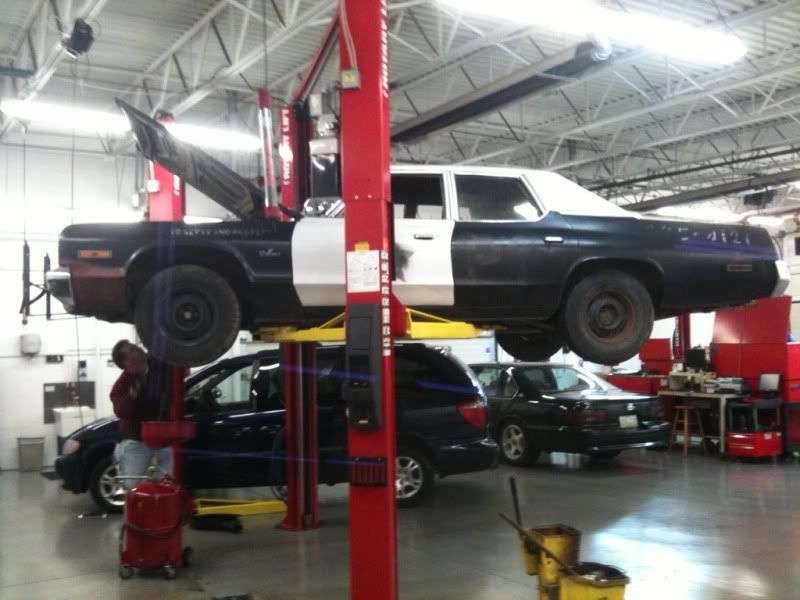 After about 10 min of work she fired up and ran nice, checked the fluids and went for a ride. The transmission seems a little weak and the idler arm has about 2-3" of play in it, but other than that it drives good.
Some of the obvious issues I want to fix. The owner previous to Josephblues, was going to demo derby the car and he knocked the door glass out. Thanks to Arthur and Zac I already have replacement glass on the way. The door latches don't all work, the drivers door works, but that's about it.
Today we dug into it a bit and cleaned out the trunk and vacuumed up a bunch of leaves and sticks that made their way in thru missing windows over the years. Here are a bunch of pictures I took, overall I am very happy with the car. It some rust but that is to be expected.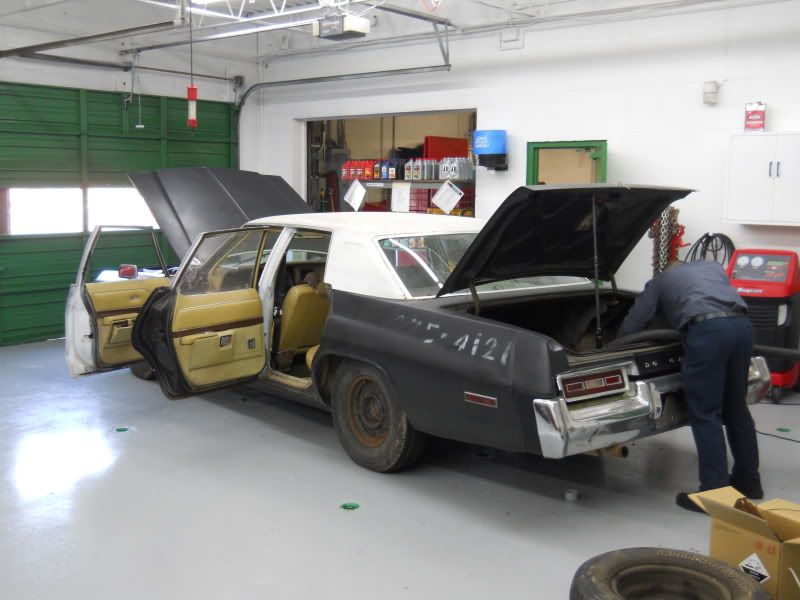 Improvised door latch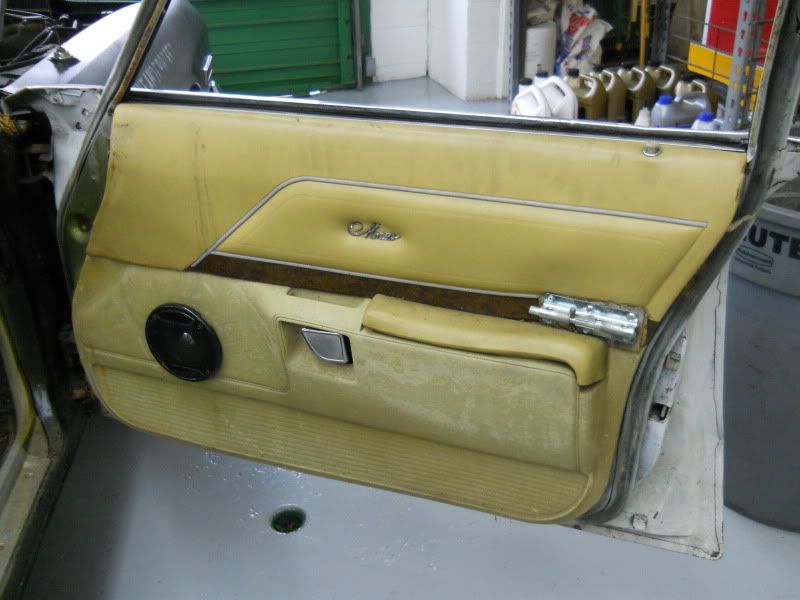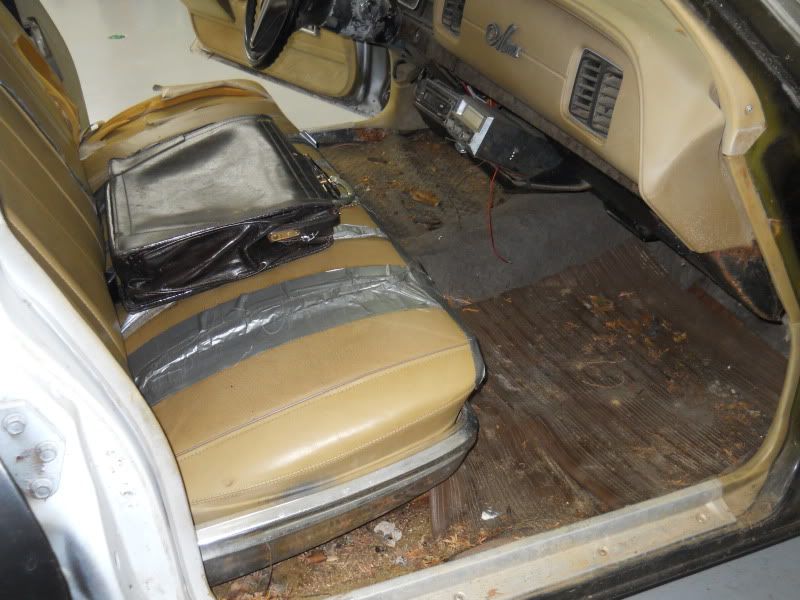 No headliner, windshield mounted mirror
Some rust under the seat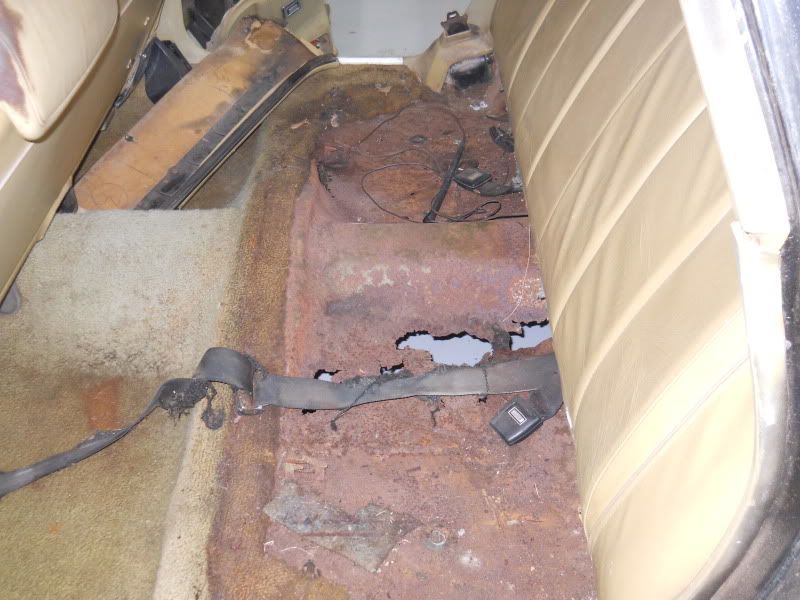 A little rust on the drivers floor, Arthur, I Could use that chunk of Fury floor you have been playing with for this!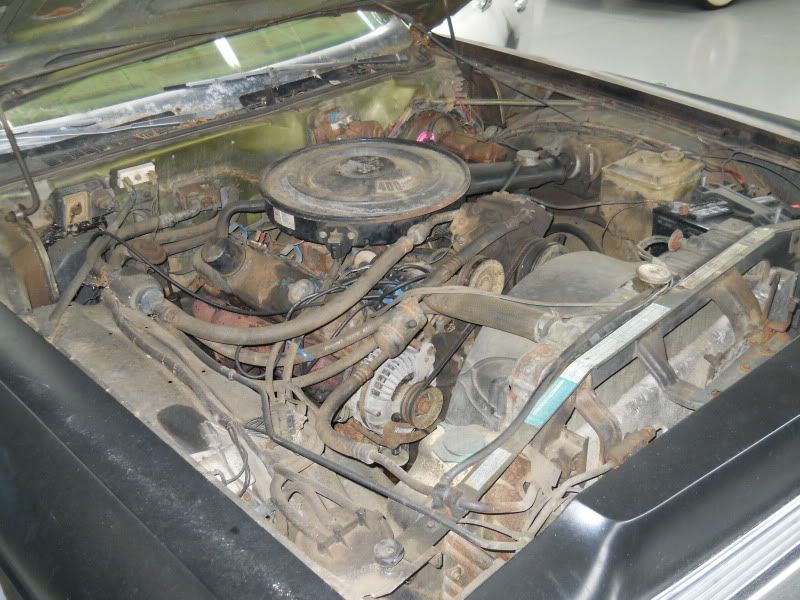 Arthur, squiggly antenna mounting, just for you
Trunk corner, this is the worst side
Trunk lid
That's it for now. My short term goal is to get four door and windows functioning and get the ball rolling on getting a valid Ohio title. After that, I will be digging in.