Post by sigmfsk on Jun 16, 2013 6:56:42 GMT -5
A lot of rumors overlap, but here's one we can give its own thread:
Here:
www.bluesmobiles.proboards.com/index.cgi?action=gotopost&board=rumors&thread=1085&post=10432
TK writes:
> At the same time, I have the complete audio from the Johnny B
> radio show when D.Aykroyd was in town to attended the
> Blackhawks game.
> In that interview Aykroyd claimed that the Bluesmobile attending
> with him is an original (which we know is not true) ... not only an
> original, but that he wasn't sure "which one they pulled out of
> moth balls to appear at the event", suggestion that there are in
> fact several remaining original BluMo's. (which again we know is
> not true).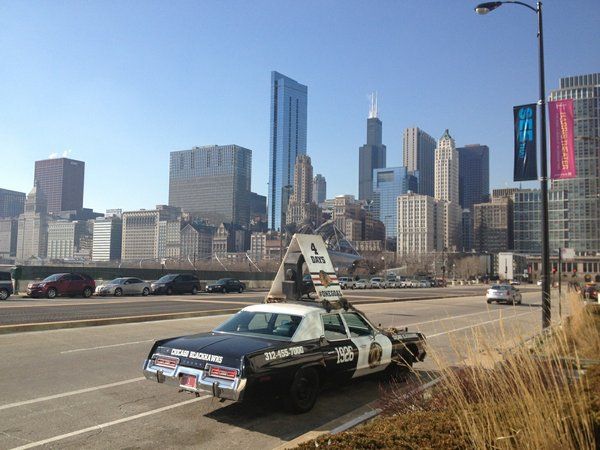 from
www.bluesmobiles.proboards.com/index.cgi?action=gotopost&board=sightings&thread=139&post=8367
At that link, Steam provided info from
www.redeyechicago.com/sports/-blackhawks-bluesmobile-20130124
,0,63306.story
- The car itself is a 1974 Dodge Monaco, a replica of the police car used in the 1980 SNL spinoff movie "The Blues Brothers."
- A Blues Brother actually drove it. On March 27, 2009, Dan Aykroyd (who played Elwood Blues) drove the car to the United Center for a game against the New Jersey Devils, where he dropped the ceremonial first puck.
- The Hawks got the car from the Volo Auto Museum in Volo, Ill., in 2008.
- To restore the car to Blues Mobile authenticity, the team enlisted George Barris, "The King of Customizers." Barris also is responsible for the Batmobile design from the TV series.
- Further customization includes Hawks decals that mimic the exact placement of the decals used in "The Blues Brothers" movie.
- The car has detachable, weatherproof speakers on the roof, which play "Chelsea Dagger" and old-school anthem "Here Come the Hawks." There is also a large, replica speaker up top. The speakers can also broadcast the voice of the driver or passenger in the car through a direct microphone inside.
- The car almost didn't make it to the 2010 Stanley Cup Parade. It appeared briefly, but stalled as the motorcade was leaving the United Center parking lot.
- It's seen its share of other parades as well. It's made appearances in the St. Patrick's Day Parade, the Chicago Festival of Lights Parade and the Thanksgiving Day Parade
- The car takes 93 high-octane fuel.
- The Blues Mobile has a custom Blackhawks vanity plate. Its number? "1."
Here:
www.bluesmobiles.proboards.com/index.cgi?action=gotopost&board=sightings&thread=138&post=323
Steam posted this youtube video
with the note:
> it was the Bluesmobile on display at the Volo Museum until Volo
> purchased the '75 they have now and sold this one to da Hawks.