Post by sigmfsk on Nov 23, 2012 9:17:38 GMT -5
We talked a bit about Jim's blumo model in the discussion of Steve's blumo model e-bay ad here:
www.bluesbrotherscentral.com/forum/topic/7455-selling-1974-original-movie-bluesmobile-model-illinois/#entry116103
In the end, we believe they are different models.
Jim's model /= Steve's model, because:
-Jim's model doesn't have a driver door mirror (or any evidence of ever having one).
-Jim's model has a "straight" black/white start/stop, while Steve's has a "jump" black/white start/stop.
-Jim's doesn't have the brown area under the driver door handle that Steve's has.
Jim's model is shown here:
at approximately 3:32.
The video takes place at
> recording studio on the CBS Studio Center in Studio City near Hollywood, California (from google translate)
for Jim Belushi's show "According to Jim"
Here's a pic: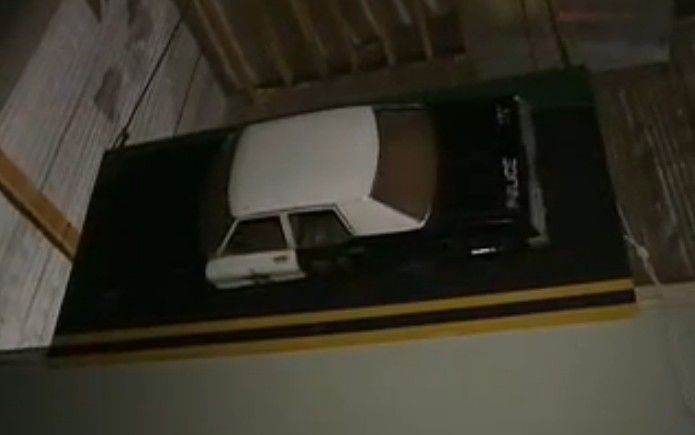 Jim says:
> That is the bluesmobile from the original Blues Brothers movie
> shot in 1980. That's the model that does the flip in the movie.
Steam's capture of Steve's e-bay ad says:
> I think one of the few that was NOT used in the movie is in the possession of Jim
> Belushi's EX.
During the german video, Jim mentions that he has a 2nd ex-wife (at 2:38). Wikipedia shows that Jim is still married to his third wife:
> He has been married to Jennifer Sloan since May 2, 1998, with whom he has a daughter,
> Jamison Bess (born 1999), and a son, Jared James (born 2002).
James Belushi - Wikipedia, the free encyclopedia
The youtube video was uploaded on
May 26, 2009
and the e-bay ad ended
December 10, 2009
So does that mean that whenever this video was taken (sometime prior to May 2009) Jim had the model, but by December 2009 the model had been transferred to one of Jim's EX wives (at which time he had been divorced for over 10 years?) Or is the e-bay seller talking about different models (did one of Jim's ex-wives get a model in the divorce, and Jim had another model)?
Regardless of where it is now, I think Jim's model is a more reasonable candidate for the movie-flip car than Steve's model (See the thread on Steve's model for reasons why it seems unlikely to be the movie flip car).
bluesmobiles.proboards.com/thread/1081/cob-steve-beshekas-blumo-model