Post by sigmfsk on Jun 16, 2013 5:22:04 GMT -5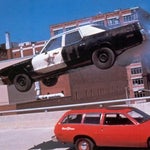 I started out getting all the segments of car shots, based on the assessment that there wasn't any CG or morphs in-between frames of the movie.
And after a while, realized that there were many more distinct setups of the blumo than there could be actual cars. Meaning, that some cars changed setups during filming. And I finally found that one car changed rear-view mirrors, so that explained a bit.
And that one got the fender dented and fixed (or vice versa)
from
www.bluesmobiles.proboards.com/index.cgi?action=gotopost&board=information&thread=57&post=8689
where I write:
> Sadly (or maybe wisely), I've put my "map the cars" project on
> hold, as it just seems impossible without some more information
> (like watching all the 16mm dalies, and knowing the dates and
> locations that scenes were shot, and knowing more about the
> 13-blumo memo).
For "insert-cars", there's definitely more than one, as the insert-car in the mall is quite different than any other car in the movie (it's the only one that has the white spotlight handle plug).
but then there are different types of "insert-cars". Those that show the whole car, like above, and those for close-ups, like this:
During the Nazi-Chase scene, there are 4 different snips of the blumo, and by looking at the upper chrome strip around the windshield, one can tell that the first 2 snips are of one blumo, and the next 2 snips are of another blumo.
Maybe "insert car" means something else, though. Not just showing Dan and John clearly. Maybe it means "being able to show the full interior, including dash and 8-track".
Well, there's even a bunch of those. During the Nazi chase scene, the 8-track changes (detail in upper left of each pic)

from
www.bluesmobiles.proboards.com/index.cgi?action=gotopost&board=screen&thread=527&post=3068
I think most of the blumos could be used for exterior scenes, and a subset of those could also be used for interior scenes, and they all went through a lot of morphs throughout filming, and it doesn't make sense to talk about just one "insert-car".